WEBSITE DESIGN
Creating Websites that Enrich Digital Experience
---
"Good Website is your 24/7 Brand Manager."
Gone are the days when only e-commerce companies were required to invest in building an impactful website. In this day and age, to have a good website is quintessential to the success of every business, be it an e-commerce brand, lifestyle brand, FMCG brand, or a B2B brand. This is the time when all brick and mortar stores are vying to delight their potential customers through their website. Having a good website is indispensable for creating an authentic brand image. No matter how enriched experience physical stores offer, if that experience does not reflect on a digital platform, it creates ambiguity about the brand image in the minds of customers who are accustomed to running to the internet for confirming the authenticity of everything from news to products and services.
Another noteworthy fact is that customers are super quick to judge a website; to be precise, they take less than 1 second to make a judgment and arrive at a decision whether they like a website or not. Why this first impression matters the most is because 88% online consumers are unlikely to revisit a website after an early bad experience. Purple Phase Communications is a top of the line website design company in Ahmedabad. We can help you create a website that leaves a good first impression and sets the right foundation to initiate a long-lasting relationship, just like your brand manager does, only this one works for you 24/7.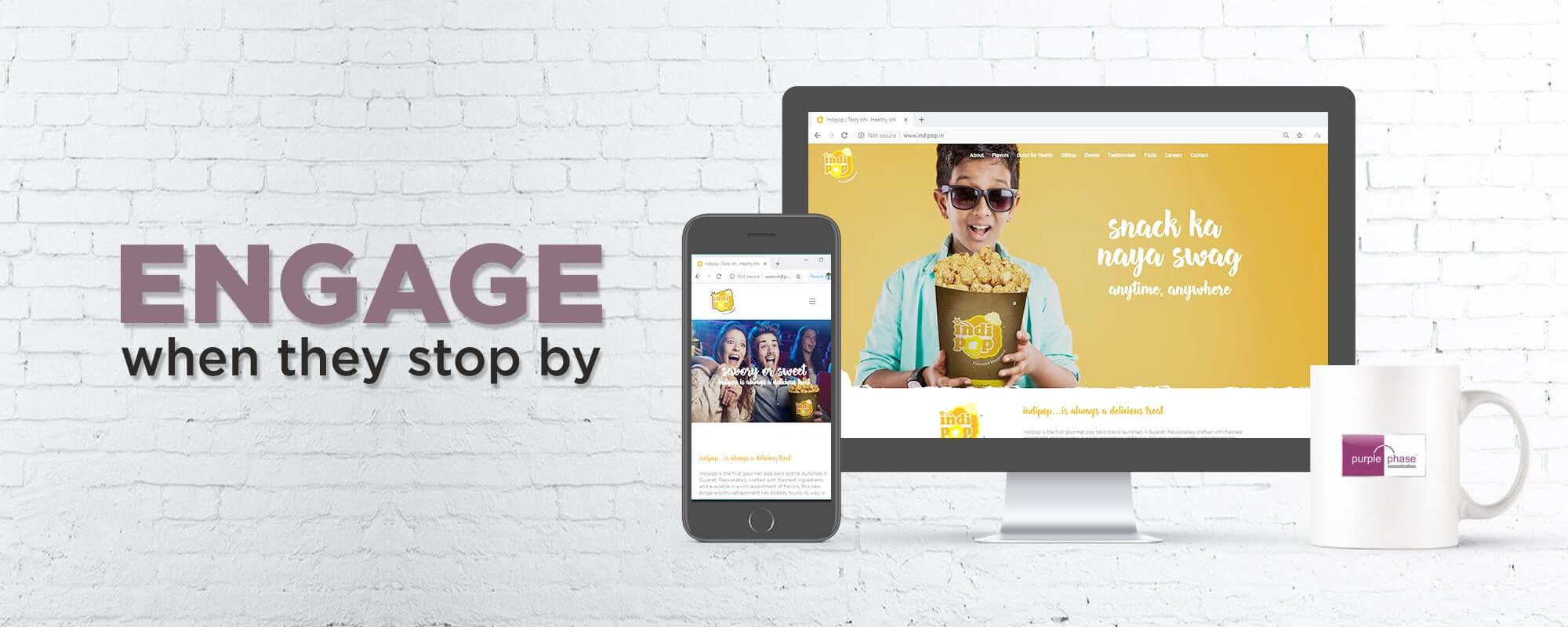 Creating Websites that Enrich Digital Experience
Purple Phase Communications is a renowned name for website designing in Ahmedabad. We provide services for website content writing, designing, and development. What elevates us to the status of best website design company in Ahmedabad is our attitude and approach towards creating websites. We develop websites that look not only eye-catchy but also provide smooth functionality while enhancing digital experience across multiple screens and meeting brand objectives. We stay updated with contemporary trends and tools and create a website which is responsive, interactive, user-friendly and exciting to navigate to create a web experience which is both engaging and informative.
According to a study 94%, people hold design of a website responsible for lack of trust in the website. Here design is perceived as an integration of several factors, where each element plays a cog in the wheel, like fonts, color, layout, text placement, navigation, etc. Our website design and development team gives attention to detail to every element to create a fascinating and composite website experience.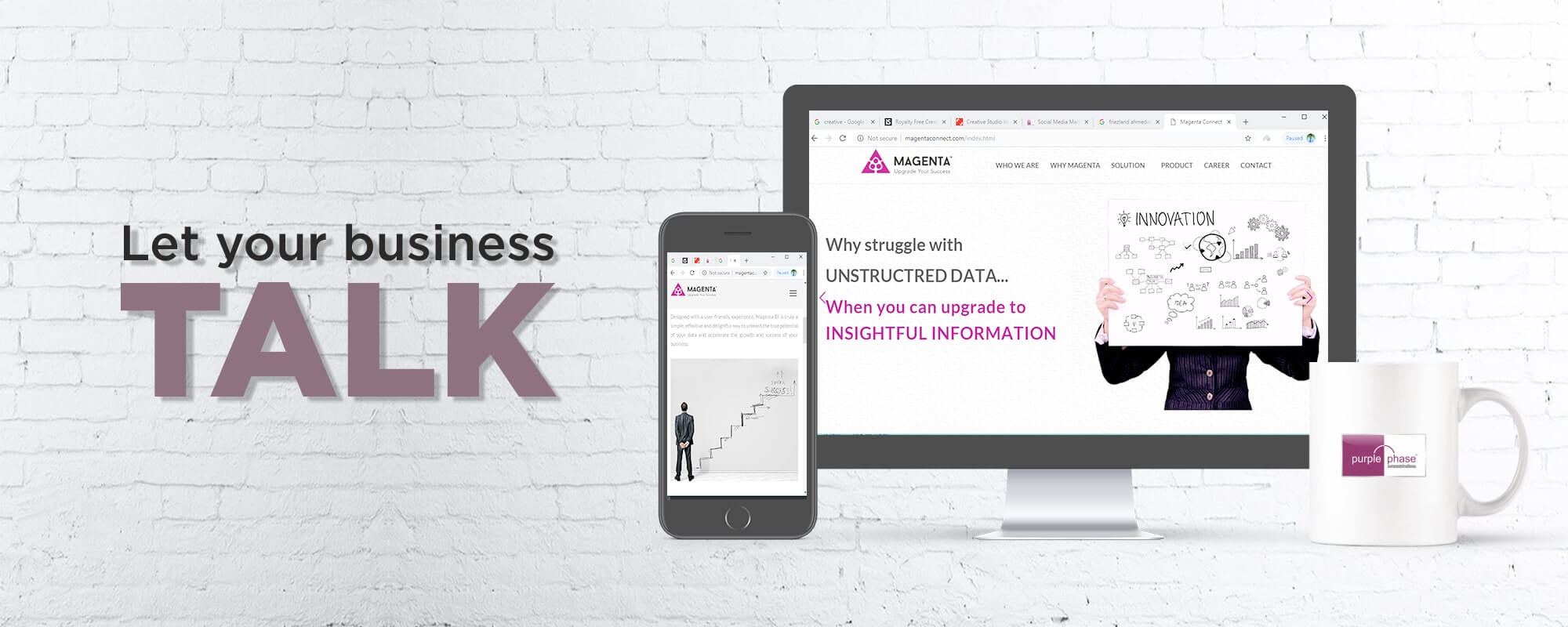 360 Degree Website Design Solutions
Purple Phase is a leading website design company in Ahmedabad. We provide superior services for website designing in Ahmedabad that includes SEO content development, website design & development, and website launch. Our process starts with understanding business and brand. After we have gathered necessary information, we start developing relevant content for the website. Then we design and improve the website in alignment with client's brief. Once the website is ready, we proofread content, test its functionality and obtain approval from the client, only then we proceed towards making the website live to the world.
What Hones the Edge of Our Solutions?
Creating exciting and engaging websites requires multi-faceted expertise. While content writing, website designing, and technical development are cardinal aspects of building a website, knowledge of how customers interact with a website is also a prerequisite. A study revealed that 38% people tend to stop engaging with a website if they find content or layout unattractive. As the leading website design company in Ahmedabad, we know how to avoid such a scenario and create websites that maximize user engagement. Here are our key strengths that help us in achieving that.
#1. Experienced Team
We have got experts who understand the dynamics of creating websites to enriching user experience and increasing web traffic to conversion ratio. Our team has experience in designing websites for startups, SMEs and multinational corporations. This experience helps us in developing intuitive websites with a flair for innovation.
#2. Responsive Design
This is the age of smartphones. Be it surfing social media channels or browsing websites; mobile screens outnumber desktop screens. In fact, in 2018, mobile phones were responsible for a whopping 52.2 percent share of all website traffic worldwide! Hence we create websites which are compatible across all devices and provide equally enriching experience across multiple screens.
#3. Technical Know-how
A website has to be technically sound to protect it from spam & hackers and ensure smooth functionality. We've got a club of professionals who have in-depth knowledge of SEO, programming, plug-ins, web hosting and other technical aspects of developing a website. We leverage the latest technology to make sure that the website is secured and easier to manage & update once it is published online.
#4. Synergy with Brand Image
We create website designs personalized to the client's needs. Instead of just providing information, we create websites that reflect brand image and tell brand stories through a creative medley of superior programming, new motion graphic, captivating layouts and stirring content. At the same time, we assure that it brings attention to information which is important to your customers and helps them easily find answers to their questions.

Are you searching for an agency that provides complete solutions for website designing in Ahmedabad? Then Purple Phase can provide end to end solutions for creating a modern and intuitive website. We understand that your website takes forward the legacy of your brand in the digital world, and since we leave no stones unturned to create a high-quality website.