When and why revamping brand identity is crucial?
by Name
---
---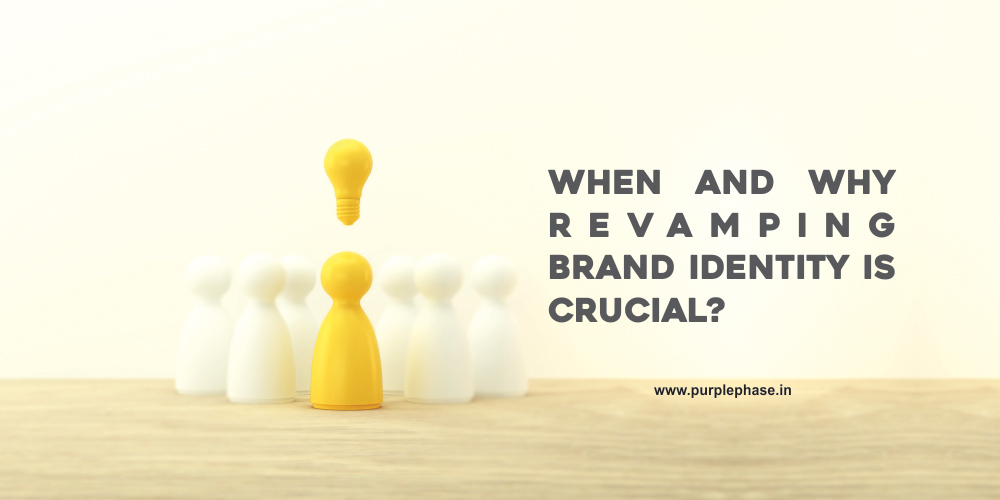 ---
Just as products have lifecycle and need to be updated with due consideration to time, consumer preference, market trends, competition and company's own mission, a brand also has a lifecycle and needs revamping of identity. Also called identity rebranding or refreshing brand identity, it is a proven repositioning strategy that businesses around the world turn to when they are looking for more growth.
Revamping brand identity is more than just a tweak in business name, logo, or tagline. Its purpose is to address actual business agendas and provide solutions to critical business problems. While the extent of identity rebranding exercise depends upon case to case basis, its effect is felt on more than just the business card, the business itself. Typically revamping brand identity creates a ripple effect with deeper connotations across brand positioning, personality, strategy and marketing. You may need to change your website, social media content, marketing material – in short your every brand interaction with consumer shall mirror your new identity in order for rebranding to be successful as well as to avoid chaos of mixed identity.
Let's consider when and why revamping brand identity is crucial.
To stay relevant to the time
Today, from food to fashion and technology to entertainment, everything is changing in the bat of an eyelid. In such a scenario, your brand may become outdated or obsolete sooner than you realize. For example, Fair & Lovely, one of the most popular and successful beauty brands in the Indian market, changed its name to Glow & Lovely some time ago. This change was necessary to capture the essence of shift in perception of beauty. While in 90s, looking fair meant looking beautiful, in today's time, meaning of beauty has evolved to more than just skin tone. Fair & Lovely, being a beauty brand, had to account for such a fundamental change in consumer behaviour, in order to stay relevant to the time.
To accommodate new avenues of business or audience
You may have started out with one business line, but as your business grows, heft of your product and service offerings tends to increase. You may need to refresh brand identity in order to leverage these new avenues of business and audience to a greater extent. One good example of such identity rebranding exercise is set by Radio Mirchi, India's leading FM brand. Recently Radio Mirchi unveiled their new logo sans word Radio. Where earlier Radio Mirchi was just about FM Radio, today the brand has expanded its content capabilities across Digital, Live and FM platforms. Hence the rebranding move was a part of its larger business overhaul strategy to present itself as a complete entertainment brand.
To account for merger, demerger or acquisition
When one business is acquired by another, two businesses merge to create a new identity, or two businesses working together separate their ways, revamping brand identity becomes an effective tool to reflect this change in business structure. When Hero and Honda parted ways, Hero introduced their new brand identity accompanied with musical composition by A. R. Rahman – Hum mein hai Hero – to fortify their new image. When US entertainment giant Disney acquired Star India, and in turn Hotstar, Hotstar's name was changed to Disney Hotstar to communicate strength of their partnership. When Vodafone India and Idea cellular merged, to create India's largest telecom company, they changed the name to Vodafone Idea and unveiled new logo: VI.
To reposition brand
There can be many reasons for repositioning a brand. It can be a planned move to support brand's vision, or an attempt to tackle sluggish consumer response, or a strategy to match pace with competition, or a combination of one or more such factors. During the lockdown, SonyLiv, OTT brand owned by Sony Pictures, rolled out its new brand identity with edgy, colourful and youthful logo. This transformation was primarily to counter competition from other OTT players like Netflix, Amazon Prime, Zee5 and MX Player among others by refreshing its image. The move was backed by a new library of content and originals like Scam 1992, The Harshad Mehta Story.
Revamping brand identity, if done right, helps in creating new interest in the brand, fix marketing or strategic mistakes, and also increase sales and customer base. If your brand is in the need for brand identity revamp and you need help to make a right decision, connect with us at [email protected] call us on +91 78200 85445.