How to grow your business post covid-19 crisis with the help of branding & advertising?
by Name
---
---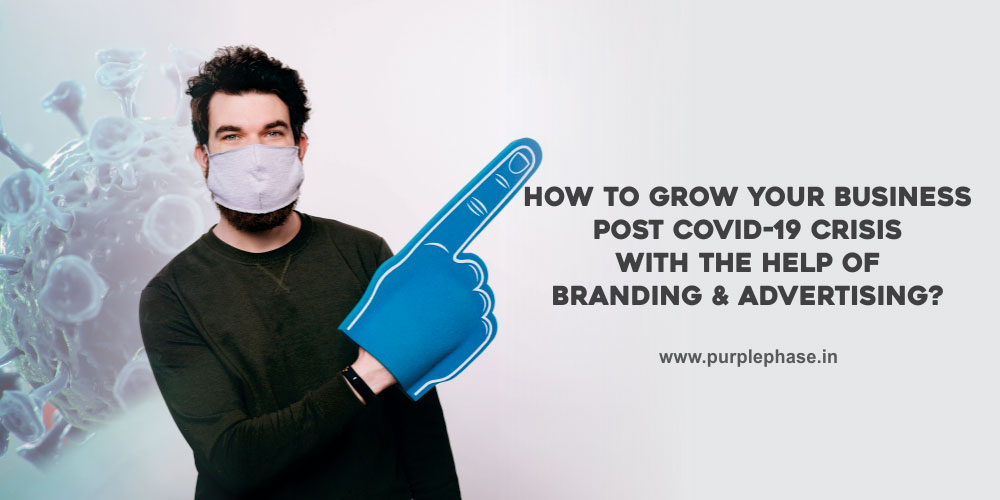 ---
Covid-19 has affected entire humanity equally. While individuals are still reeling with personal challenges, they will face yet another set of challenge on the business front. As emphasis on social distancing increases and top priority of all customers remain focused on health & safety, it will change their consumption patterns driving ripple effects across the economy. Expenses on anything which is not a living essential will take a hit. While some industries may experience a sharper dip in the demand, others may see a flat curve. Nonetheless, all businesses will face challenges and it will significantly affect their finances. As cost-cutting will trickle down across top to bottom hierarchies and departments, temptations will run high to choke branding & advertising exercises.
While observing a restraint may be a sensible strategy, stopping advertising is counterproductive. Kantar Media, a globally renowned research firm, recently conducted a survey of more than 35000 consumers globally. Only 8% consumers opined that brands should stop advertising. While 75% suggested that brands should inform people what they are doing. Jane Ostler, Global Head of Media at Kantar, says, 'Brand health becomes vulnerable when companies stop advertising.' Instead of reacting, it is time to respond. Next few months will certainly be like walking through tightrope for every business, be it small or large. Here are some suggestions how branding & advertising can help you keep the balance.
Strengthen your bond with customers
Branding can help you reach out to your customers with reassuring messages. You tell them that you care for them, you tell them about ways they can deal with this situation, how to stay safe etc. After all, they are your brand community and it's time to strengthen your bond with them. If your business is doing any CSR activity to help the community, you should communicate this to your customers in order to reinforce your brand values. Nothing creates stronger brand loyalty than seeing individual values being echoed in your choice of brand.
Communicate how you are adapting to serve customers
All businesses are trying to be flexible about their operations to adapt to the new business environment. Your company may have adapted to work from home model, your business may have started home delivery of products, you may have shifted your physical exhibition or seminar to virtual exhibition or webinar, education institutes may have started online classes. Advertising is the best way to let your customers know about these changes. You can also communicate how you are taking best precautions at your end at every stage of operation for the safety of your customers.
Create a solid brand recall
Many businesses, induced by market fears, may drastically reduce or altogether stop branding exercise. This is basically an opportunity disguised in adversity. In advertising there is negative correlation between number of brands trying to convey a message and brand recall. If more brands are trying to convey a similar message, it will result in weaker brand recall due to over exposure and vice versa. Hence, lesser the clutter, more the chances of your message being heard and remembered. It is the best time to create a solid brand recall that will go a long way in cementing your brand positioning.
Reassess your marketing strategy
While branding is necessary to stay connected with customers and keep your business rolling in these tough times, you must reassess your marketing strategy. If your business has a portfolio of diverse products, focus your marketing efforts on those products which are more likely to retain their sheen in the storm. For example FMCG companies may see a spike in demands of products catering to personal hygiene. Also your communication strategy has to adapt to the situation. Maintain an affirmative tone and don't resort to stoking fear.
Rejig media budget allocation
Media selection in branding & advertising has always played a critical role. Its role becomes increasingly crucial in the current situation of restricted people movement. It is absolutely safe to assume that social media and digital marketing will gain traction and yield more return than traditional media. It provides brands with a scope to reach out to their customers in the convenience of their home. But don't write off traditional media. Its effectiveness is proven over decades. Plus for certain traditional media, like newspaper or magazine and outdoor, you may be able to negotiate costing and can get to reach more customers at lower cost.
Run lead generation campaigns online
Lead generation campaigns are your best bet to get onboard new clients. Facebook allows you to select target audience based on their location, interest, education as well as behavioural profile. It also allows you to retarget customers who have already visited your website. It means that you can choose to show your message to the audience which is the most relevant to your business. Also you will only pay for every desired action (post click, page visit etc.) taken. Thus every penny invested will deliver assured return.
As a business owner, you have no control over external factors. But you can put up resilience with what you have. The choices you make at this juncture will have impact not only on the revenue of your business but on your brand image too. We hope that these suggestions can be useful to you while navigating through the rough waters.
To know more or share your views connect with us through https://www.purplephase.in/ or call us on + 91 9327009400 / + 91 9327085445 or email us on [email protected]