Ad agency and your business: A match made in heaven
by Name
---
---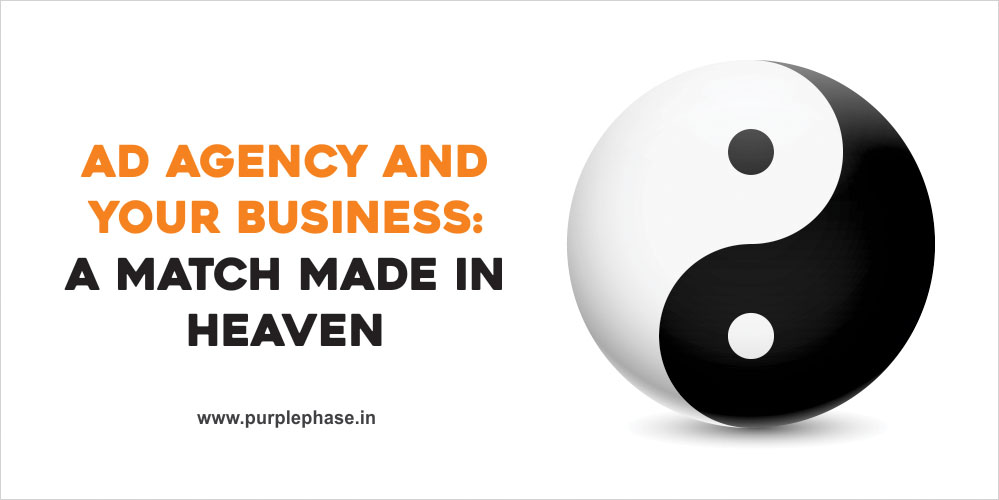 ---
Why a perfect match? Because surely, there are perks of hiring an agency!
Why hire an ad agency? This is not a secret: Advertising is directly proportional to your business traction. A business that invests in advertisements achieves better brand visibility, a loyal customer base and ultimately more sales. And that is why we all know that advertising makes a solid backbone of your branding strategy and in the long run the benefits of hiring an ad agency outweighs your in-house marketing team.
Chances are that it's still a business notion in your head. The point is - you need to send your message across. The gap between your customers' problems and the solutions your products or services provide, needs to be bridged. That's where advertisement comes into the picture.
When the concept of advertisement first evolved in the mid-19th century, it became a major force in capitalist economies, primarily based on print media such as newspapers and magazines. It was only in the 20th century that agencies rapidly buzzed with newer technologies such as direct mails, radio, television and finally the internet and digital devices.
The debate on whether to hire an advertising agency or coach an in-house team has been going on since yesteryears. Organizations, especially the budding ones are also concerned about the cost of hiring an advertising agency.
Sorry to cut you here and digress, but when you are about to build a house, what do you do? You can watch a couple of Youtube videos and start fixing the furniture yourself. But no, you don't do that. You still hire a carpenter to help you with the fixtures. You know the reason why. Those are the same reasons why you need an advertising agency to sell your products or services. (more or less)
So, unlike your decent, 9-5 inhouse team, an agency will have a nerdy designer who will refuse to budge from his seat all day. It will have an equally stubborn copywriter whom if you ask to change the copy will say, 'over my dead body!' Then what are the benefits of hiring an ad agency? Let's check it out as below:
A is equal to B, B is equal to C, A is equal to C
There might be people in your internal team who could design hoardings, create brochures or write copies. But the advertisement realm is broader than that. Writing lines is not important. Writing lines that put your message across is what matters. Having a good design does not solve the purpose. Creating a visual that interacts and communicates your value to the customers is the key point.
Underline this: The most basic rule of creating effective campaigns is a marketing strategy. A good advertisement is likely to be more effective if it is uniformly strategized across various channels to establish brand recall. And that needs some proper planning. If you are stuck into the math of the cost of hiring an ad agency, think about the effort that will go in logical strategic planning and implementation.
With the expertise and experience advertisement agencies have, they can help you put the plan into action. Considering factors such as brand tonality, target audience, etc. agency experts can prioritise your business goals and provide you ads that sell.
The glass is half empty
For years you might have learned that "Always see the glass half full." So probably because you are the boss and see the glass half full, your employees will see it that way too. This means that a lot of times, you and your in-house team can get stuck with cliche ideas that are done and dusted. You need an agency to tell you that sometimes it is alright and necessary to see the glass half empty. One of the benefits of hiring an advertising agency is a fresh perspective.
Advertising gurus work with several clients across various verticals. Hence they have a fairly good idea about the best advertising practices, along with what works and what does not. An agency combines that knowledge with your marketing goals and gives you a fresh perspective on your campaign.
More the merrier
When you hire a graphic designer for your company or a video curator, you are appointing individual talents and you will be able to take liberty of those particular skills only. This is the biggest drawback of an in-house advertising team. So just in case you have this question about, 'why hire an ad agency?' Maybe you want to rethink!
Hiring an advertising agency means letting oodles of creative juices flow. You get the say of senior copywriters, art directors and more. Whatever your marketing objective is, agency team becomes an extension to your in-house team and brings you effective results.
This way you can access greater resources in terms of more professional talent, a better quality of work, great ideas and ultimately impeccable output.
Jack of his/ her trade
Each individual in an agency is an expert in his or her niche. They already know what they are doing, probably because they have been doing it for years. Hence with an agency, you get the benefit of proficiency.
Ad agencies categorise work amidst various departments and channelise efforts into different marketing spectrums. Their in-depth knowledge of industry paves way for customer-centric campaigns that bring results. Another great benefit of hiring an ad agency, isn't it?
Resources saved is resources earned
Advertising happens at a cost and you are probably aware of the cost of hiring an ad agency. A good advertising campaign, however involves utilisation of time and resources as well. If you were to come up with marketing campaigns by yourself, it would require a great deal of time and manpower. This would sway you from bigger goals: expanding your business and scaling it to new heights.
An ad agency is meant to create ads and it is out there for you to take up this role. It is not only equipped with enough man-power but is also committed to complete your projects in a stipulated time frame.
The Takeaway
Wondering how to select an advertising agency? We suggest looking for the one that takes inspiration from your work and is eager to drive your efforts into action. And just in case cost is on your mind, think about it as a must-have investment for your business. In the long run, you will only be happy that you took the strategic pathway to churn your brand story.
If you haven't begun any chapter yet, it's better late than never! Advertising pundits at Purple Phase Communications will leave no stone unturned to guide you right.
www.purplephase.in