Why do small businesses need to go big on branding?
by Name
---
---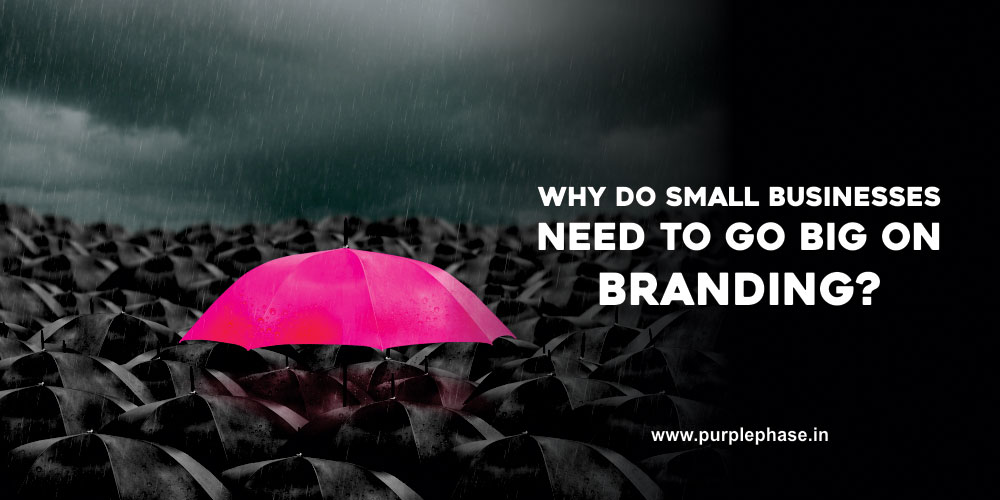 ---
Did you know that smart people often self assess their abilities, inaccurately? They generally underestimate themselves and think that they cannot reach out to the moon. Brands are no different! Or it would be better to say, upcoming brands.
If you are just in your hatchling stage, it's quite understandable to think that 'branding for startups' is not your thing. Wake up, entrepreneur! It's time to break that myth. Now that you have started your business, maybe you want to think, BRANDING!
To count on your fingers, branding not only helps in selling your products or services but also gives your business that much-needed voice. It educates your customers what you stand for and helps put your philosophy across. In a broader context, branding acts like a backbone to your business and provides intangible benefits besides just improving your profit margins.
So whether you run a bookstore at the corner of the street or sell apparel online, you need the power of branding. And what's the starting point? You may ask.
Stop thinking about your business as a business. Think about it as a brand. Why? You'll see in a jiffy.
· Branding for startups helps to make that first impression
Your brand is your image, which means a lot of things are at stake. If you can't hold audience's attention in the first few minutes, you have lost the game.
The right kind of advertising strategy for small business tells the audience that you are worth listening to. But all that comes at a later stage. For you to make that first impression is very important. It could be your graphics, the user-interface on your website or the way your receptionist at the front desk smiles and responds to a walk-in customer.
All these elements constitute your brand identity kit. And customers are out there judging you, constantly. So first, make that first impression!
· Branding for small business means big recall value
What are you? An owner of a multi-vendor marketplace? A business partner in an upcoming restaurant? Whatever it is that you have started; several others would have already made it.
So no matter how bitter the truth is, let's gulp it down: You are not the only player in your niche. Every day, several businessmen try their luck and jump in the pool. Startups are stemming up at a faster speed than people can say, 'Indiana Jones.'
With such high market competition, what are your chances of survival? And even if you made it to the finish line, how will you penetrate your customers' minds. Customers need a reason to remember you, right? Branding for startups does just that.
When you come up with a flashy logo, a quirky name or a tagline that sounds much like a jingle, the audience remembers you with these elements.
You still remember, 'Vicco Turmeric, Nahi Cosmetic…' don't you? Bang on! That's what branding does. It helps your customers relate to your company and goes a long way to create a recall value.
· Branding helps to win your customers' hearts
Tell your 16-year-old son to buy a gadget and he will simply check the internet- left, right and centre. He will go through the reviews, browse different web stores and then make the decision.
Your takeaway? Today's customer is more conscious of his or her choices. So while new businesses are coming each day and the market scenario is changing, customer behaviour is shifting too. In this case, you not only need to win your customers' minds but also their hearts.
Let's see this one, 'Ma ka bharosa aur dentist ka sujhaya.' Rings a bell? Colgate tried to win customers through influencers that the brand thought would connect with the audience.
When you have a unique selling proposition and if you voice out well with the right kind of tagline, it helps to generate customers' faith and loyalty. The promise you make as a brand becomes synonymous with the social proof that your products or services are genuine.
· Branding for small businesses helps to retain personnel
Research says that a company that pours efforts to keep its employees happy is 3 times more successful than the one who neglects this. Your customers make the second chapter in your brand story, your employees comprise of the first and that is why it's important to retain them.
When companies' employee retention rate is higher and employees align themselves under company goal, there is no stopping.
But you need branding to let that happen. A company with a strong vision and elements that voice that vision creates a sense of responsibility and trust amongst its employees. Staff members feel that they are associated with an organization that is conscious and consistent about its goals.
· Branding backs up your marketing efforts.
Your products are great. Your services are impeccable. Then why is there no traction? The problem could be that while what you sell is awesome, people don't know about it.
How can a homemaker buy a vegetable chopper made out of the finest blade and giving excellent output, if she doesn't know that such a product exists?
So to say, branding for startups conveys the audience that there is a solution to their problems. Branding and marketing are two sides of one coin. As an entrepreneur, you need to find the right balance. Too much branding and people will think that you are being a pushy salesman. Too narrow focus and your marketing efforts will fall on deaf ears.
· Branding helps you side-track your competitors
The business market (online or offline) is a fierce battleground. There are too many fish - big and small. Branding for small business owners means cutting the noise and getting recognised in the market.
But envy is not a strategy. Hence it would be wise to look-see what others within your niche are doing. You can plan your way forward accordingly and with the right approach, side-line your competitors.
Final Thoughts
So what is it that you seek? Want more customers? Want to retain existing ones? Or simply remerge strong? No matter what, you need a strategic approach to your business. That's alright if you are still taking baby steps. You are going to expand nevertheless. So let's look at the bigger picture. Let's talk about branding and advertising for startups. We are just a call away.
www.purplephase.in