5 Packaging Design Trends for 2019 Every Marketer Should Know
by Name
---
---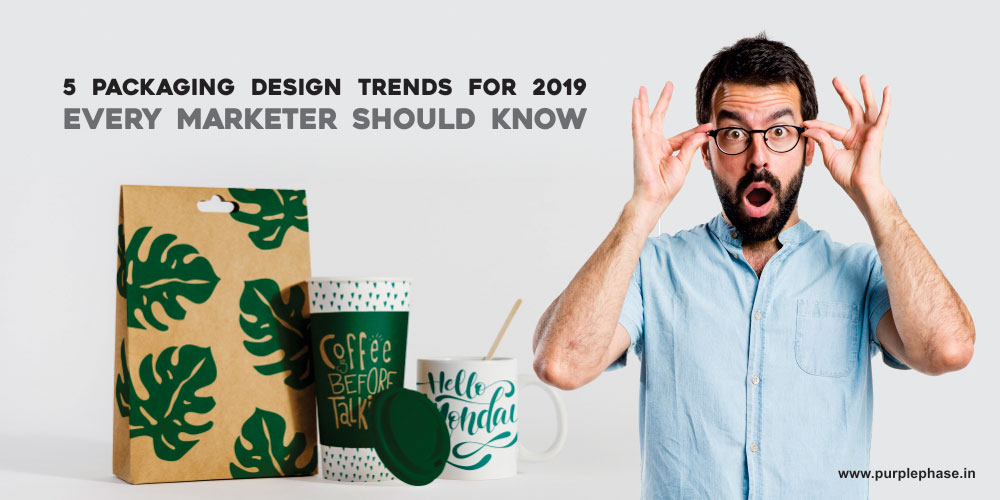 ---
Packaging design unarguably influences perspective of consumers towards the product. With continuous innovations and new trends, a lot has changed in the sphere of packaging design in the last 12 months. Hence, in order to help you keep track of these changes, we have picked 5 major trends in packaging design that you can expect to dominate 2019.
1. Minimalistic Design
Minimalist packaging designs have become popular of late. And this trend is definitely here to stay. Minimalist designs thrive on the principle of simplicity. There is no overuse of graphics, colours, text and fonts. Everything is kept simple, focused and minimal centering on the idea of clarity, conciseness and breathing space. Major benefit of this type of design is that essential message is clearly communicated.
2. Eco-friendly Design
As we become more conscious towards our environmental footprint, environmentally responsible designs will become more and more popular. From plastic-free packaging to packaging made of recycled materials, packaging that can be reused and biodegradable packaging, marketers and manufacturers are taking the responsibility to save the planet. And this is not only good for the environment, but good for the brand too.
3. Neon Brigade
We experience 80% of our awareness from sight. This simply accentuates the tremendous potential of strong colours on the packaging. Neon colours, either in solid or in gradient, are visibly the most vivid set of colours and succeed in grabbing attention overpowering other colours. Also, with the advent of new printing technologies that make it possible to reproduce every single pixel in the image with ultra-high precision, neon trend will gain more traction.
4. Innovative Design
Imagine a consumer is browsing the shelf to buy a packet of chips. Given that there are no brand preferences, consumer is most likely to be influenced by the packaging that surprises and delights him. Innovation in packaging can take many forms; it can be a slight change in the shape, application of a simple life hack, fun game that can be played using packaging etc. Especially interactive packaging helps in building connection with the consumers.
5. Retro/Vintage Design
Old is gold. And this saying doesn't seem to mitigate in its meaning and significance with time. Retro/Vintage design expresses authenticity and honestly and hence this style of design is especially useful for those brands which have a long standing legacy to communicate. Another reason for popularity of retro/vintage design is that newness is becoming monotonous due to sheer volume of products that land in the market with new packaging.
At Purple Phase Communications we keep watch on all latest trends in design and branding so that we can help our clients to get maximum benefit of upcoming trends. This is not a definitive list, but definitely a one to watch out for. Do you agree or disagree? Do express your opinions in the comments and let us know your thoughts. Connect with us at https://purplephase.in/contact if you need more information.