5 steps to strongly implement brand positioning
by Name
---
---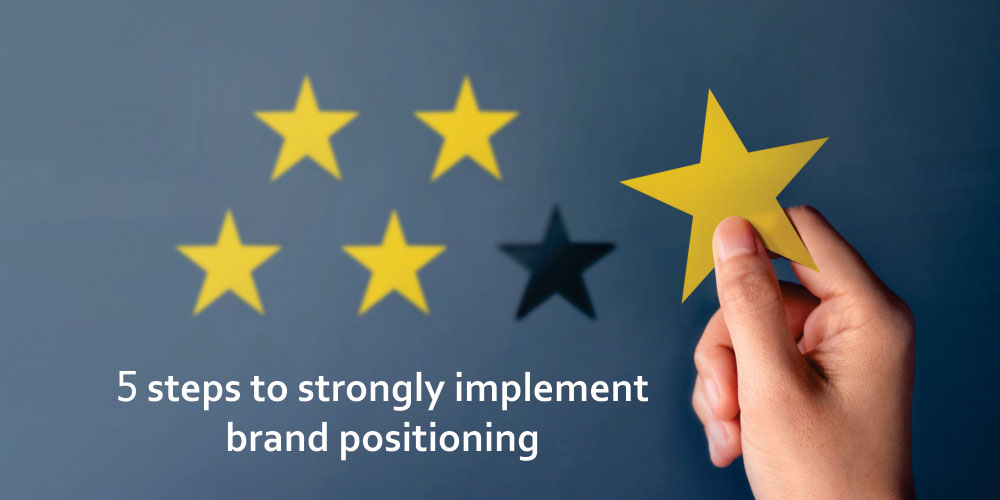 ---
Brand positioning is a strategy to create a distinctive image for the brand in the hearts and minds of consumers. It is a continuous process and can take years to establish strong brand positioning. How your brand is positioned plays an integral role in creating brand experiences for your customers, employees and your every stakeholder. Hence it is important to ensure that brand positioning is strongly implemented so that a coherent, relevant, distinctive and trusted brand image is formed.
To make the task easier for you, we have identified 5 exercises that can help you strongly implement brand positioning.
1) Break it down into smaller elements
A meaningful and clearly defined brand positioning speaks a lot about your organization. Break it down into smaller elements like brand personality, values, target audience, brand promise and others. Carefully analyze each aspect and determine how each of these characteristics, individually as well as integrated together, reflects into brand positioning. This will help you get a deeper insight into your brand positioning and what it means for your various stakeholders.
2) Identify vital customer touch points
Which are the most important channels in your organization where customers come in contact with your brand? It can be your brand communication, your reception lobby, your employees, your website, anything. Every touch point is pivotal in fulfilling brand promises as well as fortifying brand positioning. At every touch point consumers make an interaction with the brand. These interactions form the basis of brand experience, which is essentially how consumers perceive your brand.
3) Find ways how brand positioning can be translated at every touch point
A consumer visiting your company's website should experience the brand in the same manner in which a consumer visiting brick and mortar store does. Consistency of brand experience is crucial to send out a coherent brand message. This will happen when your brand positioning is reflected in your every communication. Ask your employees and your branding partner to come up with ideas that are in tandem with what your brand stands for.
4) Collect feedback from customers
You brand's positioning is not only about what brand image your company is projecting. What do consumers think about your intended message is also equally important. What is the perception of your consumers about your brand? What do they expect from your brand and whether their expectations are satisfied or not. Whether they feel that the brand experience is true to promises made? These valuable inputs will help you understand if there is any gap between your defined brand positioning and perceived brand value.
5) Fulfill the gap
If your brand's positioning is not strongly reflected in customer experiences, it is time to improvise. Dig deeper into consumer feedback and you might find some valuable insight into where the efforts are lacking. Make sure that everyone in your organization understands the correlation between positioning and how their role affects it. From the top management to employees and brand partners, everyone should be working together to bring brand positioning, brand promise and brand experience in alignment.
While defining brand positioning is itself a tricky task, implementing it is even more complex and yet evermore substantial in shaping and growing your brand. We hope these exercises will give you clarity to strongly implement brand positioning. Also, note that it is not a onetime event, but a continuous process that needs to be carried out again and again. Because the brand never sleeps! We at Purple Phase Communications do this exercise with all our client brands so that the foundation of communication stay strong.
If you like the article share your comments or feedback through [email protected] Also visit our company website https://www.purplephase.in/ to know more about our work.